The Grooveblaster has been making sample-based dance, electronic, down-tempo pop for more than 20 years. His songs are a unique blend of the many artists, bands and styles that have influenced him over the years. Influences that range from Gene Krupa, Anita O'Day, Philly Soul, Massive Attack, Saint Etienne, the Clash, Steely Dan, 1970s Los Angeles Pop, Dave Brubeck, Kenny Burrell and Brian Wilson to name just a few.
His first album, Look in the Mirror and Dig Yourself was a mixture of laid back jazz influenced grooves, funked up beats and soulful vocal samples. A 1970s soundtrack.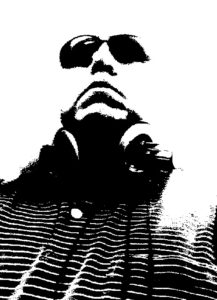 The Grooveblaster's second CD, Cities, Streets & Bebop Nights (which takes it's title from a Jack Kerouac phrase) features sultry and soulful vocals by Anji Bee (the lovespirals), Yasi Baby (Pacha Massive), Laura Harley and Daca Kopanja and is now digitally available worldwide on Bopaganda Hi-Fi Records.
In addition the album includes cinematic cosmopolitan instrumental grooves includinga tribune to Angie Dickinson and rumba ode to Italian model/actress Benedetta Valanzano.
The Grooveblaster's third CD Out of the Past also digitally available worldwide on Bopaganda Hi-Fi Records. The 13 song album features vocals by Anji Bee, Yasi Baby and Jana Tarasenko in addition to cosmopolitan groove instrumentals.
Anji Bee is featured on the Philly Soul style 'Put Some Music On (Good Times)' and the pop gem 'Smiling.' Yasi Baby sings on the the funky grooves 'Dare' and 'Lady Groove' while Jana Tarasenko is the vocalist on the sultry 'Stretch Out and Relax'.
The album also includes instrumentals such as the Big Beat throwback 'You Got That'; downtempo chills 'Romantic is the New Fantastic,' 'Soulville,' 'Orange Popsicles and Lemonade'; the bebop of 'Call Northside 777′; the heavy duty dub of 'It's in Her Kiss,' and a love letter to the future 'Kiss the Future.'
He has also released a 4-song digital EP Bop Dead City. Check it out and get a hold of yourself as you blast the cosmopolitan instrumental grooves. Drop into the seismographic configurations of the bebop bass lines, funky 70s soul guitar licks, fundamental keyboards of the Rhodes kind, the spaciousness of the spliff girl with superlungs – pooof – and the smoothness of a Saturday afternoon of Philly Soul.
Through 2015-2015 the Grooveblaster also released 12 singles over the course of 12 months.