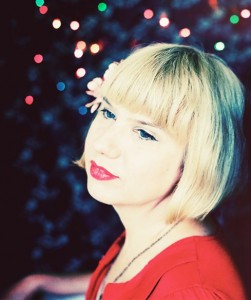 Anji Bee and The Grooveblaster have hooked up once again to collaborate on two new songs that will appear on his soon to be released album, Out of the Past. The two songs, "Put Some Music On" and "Smiling" continue to exxplore the cosmopolitan vibe that the duo created on Cities, Streets & Bebop Nights.
Anji is the vocalist and lyricist of So Cal duo, Lovespirals. She has also collaborated with a number of electronica and ambient artists over the years including Rom di Prisco of Bitstream Dream and Machineries of Heaven, Chukimai, Chandeen, Falling You, 7 Day Visa, Moosefrog, and Karmacoda. Her work with the CC Asia Band on the ccMixter site led to dozens of remixes, mashups, and additional collaborations with artists such as Benoit Cassar, Giovanni Perini, Loveshadow, and volk1.
Additionally, Anji hosts the popular weekly chillout music show, The Chillcast with Anji Bee, and the twice-monthly Chillcast Video. Both shows are available for free download on iTunes. Anji interviewed The Grooveblaster for a one hour feature in 2008. Listen to The Chillcast Grooveblaster Feature.
Check out Anji Bee's official site for more info.